About Tadasana Travel LLC
The intention of Tadasana Travel LLC is to provide inspiring connections to yoga students, teachers, and retreat sites to support your journey on the mat. Through the practice of yoga, meditation, and coaching we can clear the space of things that no longer serve us and reconnect to the things we love, creating new ideas and a healthier, clearer mind to live passionately everyday.
Whether you take a trip on one of my retreats or one of Tadasana Travel's amazing teacher retreats, you will be provided an opportunity to experience the support you need on your life's journey.
Biography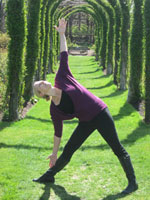 With over 20 years of Corporate experience in Project Management, Finance, and Procurement, Jeni James believes in the power of yoga to maintain balance, strength, and flexibility both on and off the mat. After starting to dabble in yoga in 2003, she committed to a consistent practice and a yoga mind in 2009. The practice has transformed her physically, emotionally, & spiritually. Yoga has and remains to be a tool to maintaining a healthy body, mind, & spirit, and is a place to work through issues, become inspired, & get the answers to continue on the journey of life. It has changed her way of thinking and guided her to start living her passion. Now, she wants to provide meaningful connections for students, teachers, and retreat sites to support this all this amaxing practice has to offer.
In 2012, Jeni became a certified Yoga Instructor. Trained by Rodney and Colleen Yee, the basis for Jeni's studies has been B.K.S. Iyengar. These studies, mixed with her love of Vinyasa flow and Power yoga create the daily practice for the retreats. The retreats also include the practice of YIN yoga to balance the movement of Vinyasa with meditative qualities of a more passive practice to help you go within.
Trained by Hila Kadem Ferguson in 2008, Jeni is also a Certified Reiki Master. This healing mechanism is what helps her connect people with their passions, determine next steps towards making a plan to move them along their path to pursuing their dreams.
Her love of yoga, travel, and helping people connect to key resources come together to create Tadasana Travel LLC.
about
Travel Articles
Studio Reviews
Yoga Journal
FREE Newsletter
FREE Subscription
Monthly yoga pose with alignment points
Song to add to your yogi playlist
Discounts and Retreat Pre-Registration