YOGAMAYA, Chelsea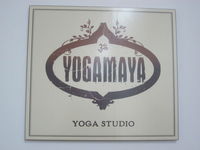 April 12, 2013
The epidimy of ZEN, Yogamaya just off 7th Avenue on 20th Street is the perfect sanctuary for your mat. Both the reception area and studio are beautifully designed in a modernly sacred style. The perfect combination of yogi decor with the comforts of home make you feel as though this is a special meeting place for a sacred practice. The studio is naturally lit with a large skylight to shine in on us on our mats even on rainy days.
I thoroughly enjoyed Stacey's class from start to finish. Her words of wisdom regarding the nurturing of even the smallest sprouts of spring, never giving up on them, was the foundation for the practice using supportive props in unconventional ways. Woven into the Vinyasa practice, in a pose that we have done more than a hundred times, a new perspective formed in allowing support to be received whether you needed it or not.
If you have become weary of the city, take your mat to Yogamaya to reconnect to the sacredness of your practice, your mat, and yourself.
Drop in $20, with additional first timer specials
Share the love!
Travel Articles
Studio Reviews
Yoga Journal
FREE Newsletter
FREE Subscription
Monthly yoga pose with alignment points
Song to add to your yogi playlist
Discounts and Retreat Pre-Registration