Virayoga, SOHO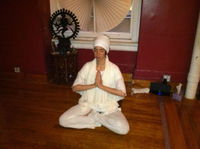 April 26, 2013
Just south of Houston, above the hustle and bustle of Broadway, lies a beautiful space to place your mat. Matching the charm of Elena Brower herself, Virayoga studio brings wonderful natural light, spacious ceilings, and soft lighting. A diversity of classes and times, drop in for $20 or purchase a package. Elena teaches as part of the regular schedule, so you don't have to wait until conference to practice with her.
What drew me to the studio was a workshop. Virayoga offers a multitude of options from different styles of yoga to healing to music, if you are looking to spice up your regular routine, this is the place to be.
The Kundalini workshop, taught by Nicole Smith started in February focusing on the Chakra system. Week to week we moved through each energy system with a special Kriya, devised by Nicole herself to help us activate, clear, and nurture each channel. This month started the 10 bodies workshop which focuses on a particular set of bodies specified within the Kundalini system. Nicole's gentle, soft nature and sophisitcated sequencing will leave you feeling grounding, clear, and relaxed. I have thouroughly enjoyed the classes at Virayoga with Nicole and hope to continue along this workshop path as part of my Kundalini studies. Whether you want to try Kundalini or take your studies to the next level, this workshop caters to all. Check out Nicole's site for more classes, Vision Based Living and Yoga Therapy.
Share the love!
Travel Articles
Studio Reviews
Yoga Journal
FREE Newsletter
FREE Subscription
Monthly yoga pose with alignment points
Song to add to your yogi playlist
Discounts and Retreat Pre-Registration