Republic of Yoga Kirtan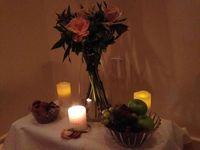 January 14, 2014
Feeling like you need to add a new dimension to your yoga practice this new year? Commit to a monthly chant practice at Republic of Yoga, Cary, NC!
The first Wednesday of every month, join studio owner, Nicole Nichols along with Dani Strauss and Courtney Long for an amazing night of Kirtan chant. Practice begins at 8PM, suggested donation $10, and lyric sheets are provided.
Kirtan is said to open the mind, body, and soul through the art of chanting Sanskrit in specific tones and words. Republic of Yoga provides a beautiful space and the most lovely music to accompany this sacred practice.
Not only is this a great way to deepen your practice through the art of chanting, but is also wonderful for coming together as a community sharing music and building friendships.
Drop-In before Kirtan, your first class is free or check out the other classes and workshops at Republic of Yoga.
Share the love!
Travel Articles
Studio Reviews
Yoga Journal
FREE Newsletter
FREE Subscription
Monthly yoga pose with alignment points
Song to add to your yogi playlist
Discounts and Retreat Pre-Registration