Heart of Yoga, Carrboro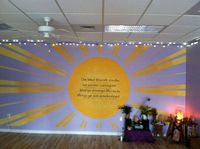 December 2, 2013
Just off Lloyd Street, in cozy Carrboro, Heart of Yoga, provides a celestial approach to your mat practice. All the classes are named Sun, Moon, Earth, Twilight, to focus on a specific energy; Sun practice for an energzing flow, Earth for a grounding Restortative practice and more.
Twice a month, join Danny DePuy for the New Moon and Full Moon classes that focus on the astrological phasing energies of our glorious moon. Check their website, Heart of Yoga, for classes, Kirtan, and special Workshops. The sister studio in Sunset Beach, NC is hosting Manorama this Spring!
If you are looking for a deeply connected practice, Heart of Yoga delivers, right to the heart...of yoga.
Share the love!
Travel Articles
Studio Reviews
Yoga Journal
FREE Newsletter
FREE Subscription
Monthly yoga pose with alignment points
Song to add to your yogi playlist
Discounts and Retreat Pre-Registration