Golden Bridge SOHO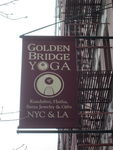 January 2, 2013
Need a break from the vinyasa? Check out Golden Bridge Yoga Studio, founded by world renowned, Gurmukh Kaur Khalsa. This practice, based on the science of the body and mind, is designed to strengthen the core, relax the nervous system, and eliminate all disease from our minds and bodies.
The studio is beautiful and inviting with historic brick walls and fun music to go along with all the poses. The store is one of the best I have seen in the city with a wide variety of clothing, DVD's, and just fun stuff to create your sacred space at home.
Drop in for $20 or purchase one of many class card options. Maybe you will even be lucky enough to attend a class with Gurmukh as she stops in NYC amongst her worldly travels. Her energy and teaching is a true blessing in a game changing practice that will give you a entirely different perspective to yoga and how it can transform us for the better.
Share the love!
Travel Articles
Studio Reviews
Yoga Journal
FREE Newsletter
FREE Subscription
Monthly yoga pose with alignment points
Song to add to your yogi playlist
Discounts and Retreat Pre-Registration