Yoga Topic by Jeni James at Tadasana Travel LLC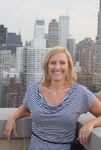 June 3, 2013
Preparing for Transformation: The Archer
In August of 2012 at the Being Yoga conference at the Omega Institute, one of my classes, with Manorama, a well-known Sanskrit teacher focused on Yoga and the Inner Warrior. She said, "Everyday we fight the inner and outer battles of life. The yogi in training fights the inner battle."
She talked about Arjuna, from the Bhagavad Gita and how when one goes into battle, you have to first prepare yourself.
Like an archer going to war, connecting to your life purpose begins a new journey. Therefore time to prepare ourselves for the transformation ahead is needed. As an archer prepares, he finds his bow and arrow, he identifies his target, he takes aim, and then, only when there is true alignment, he takes the shot.
In yoga and in following the path of our soul purpose, preparation is our self-awareness.
Manorama went on to give a new perspective of evil, saying that evil is really only when one is out of awareness with the self. This concept holds true of many that are not following their path. When we are not self aware and therefore working in something other than our purpose, work and life can feel exhausting, frustrating, even toxic.
To get back into alignment, the archer prepares the bow and points the arrow towards the target.
This is where a lot of people get stuck.
The first question I ask my clients is "What do you desire"? You would be surprised at how many times, they don't know, they don't yet have the awareness. Or they think they know and as the journey begins, it changes because what they thought the target was wasn't what they wanted at all; it wasn't in their true hearts desire.
I experienced this myself in my own transformation from corporate businessperson to entrepreneur.
I thought the target was a middle-sized yoga retreat business. Traveling, teaching yoga, visiting different places around the world with a little group of yogi's was what I had in my sight.
After months of self-work on mind, body, and soul, while in meditation, I connected with my true's hearts desire. What I became aware of is that I wanted something more. I wanted to create something more meaningful for people. I wanted to get them on the path to fulfilling their life purpose and connect them with the resources to support them on the their journey. The beauty of this was that by doing so, I was fulfilling my own purpose! And the personal transformation cycle that was just nearing completion provided me with the tools and skills I needed to fulfill this work.
It was in this moment that I gained much respect and appreciation for preparation and became aware of just how magical and wise the universe is. It was in this moment that I felt the authenticity of my own unique target and was in correct alignment to take the shot.
To prepare for transformation, we take a look at ourselves and where we are at today. We use our awareness to prepare for the path, come into alignment with what we truly desire, so at the point in time that we have our authentic target in sight, we have no doubt that we can make the shot.
Namaste,
Jeni
Share the love!
Travel Articles
Studio Reviews
Yoga Journal
FREE Newsletter
FREE Subscription
Monthly yoga pose with alignment points
Song to add to your yogi playlist
Discounts and Retreat Pre-Registration