Yoga One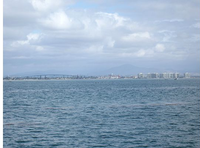 December 10, 2011
For a little bit of So Cal Zen, go to Yoga One (www.YogaOneSanDiego.com). This charming studio with wood flooring, stained glass lanterns, and skylights is just blocks off the main streets of the Gaslamp district, walkable from the Hotel Andaz. Melissa's gentle nature and subtle adjustments were the perfect fix in between a day of travel and an intense workshop! Drop in for $15, mat included.
"Love it"
Great location is staying in the Gaslamp district
Cute little grocery store on the way home to pick up hotel essentials
"Didn't love it"
That I couldn't get back for a second session...sigh...
Share the love!
Travel Articles
Studio Reviews
Yoga Journal
FREE Newsletter
FREE Subscription
Monthly yoga pose with alignment points
Song to add to your yogi playlist
Discounts and Retreat Pre-Registration