Why should you practice when you travel?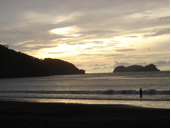 November 7, 2011
Why am I a Traveling Yogini? I've struggled with exercise and working out for a large portion of my life. After gaining a lot of weight in college, I got focused, took off the college pounds, and committed to a regular program. This was nice whenever I was at home, in my comfort zone, in my routine. Then, I would leave for a vacation and come home feeling poorly and disappointed that I needed to "get back into my routine". It didn't matter how much I watched what I ate or tried to get in activity while traveling, it always felt like I had to start over from scratch.
I started doing yoga for many reasons: its limited strain on my body, it's fulfilling of requirements for cardio, flexibility, strength training, and balance all in one, and its meditation and breathing rituals. But now, in addition to all of that, I have found that I can carry my practice to anywhere in the world I want to go because the practice IS me. Wherever I am, I can find a space, roll out my mat, and return to the practice that I so dearly love. In addition to all of that, upon returning home, there is no guilt, no starting over, just continued practice.
One instructor equated it to instantly resetting. No matter where you have been or where you are going, coming back to the mat resets your mind and body into something familiar, gentle, and comforting. It's a place to find your breath again and connect to your body.
I find as well, that by taking my practice outside of my normal studio, I challenge myself a little more. After all, no one knows me and may never see me again, so I might just push harder to stay in crow pose a little longer or finally lift up into full wheel.
Another benefit to being a traveling yogini is all the amazing experiences I have had. From seeing the downtown architecture of Seattle from tree pose to the Hawaiian jungle in downward dog, the practice itself, although universal, can take you places to see things you never would have noticed during your home practice.
Bottom line: Practicing yoga when I travel enhances my practice, as well as, my travel experiences.
Share the love!
Travel Articles
Studio Reviews
Yoga Journal
FREE Newsletter
FREE Subscription
Monthly yoga pose with alignment points
Song to add to your yogi playlist
Discounts and Retreat Pre-Registration