What I've learned about yoga...leading to My Dreams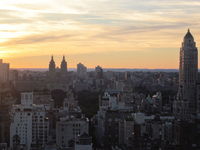 August 15, 2012
Yoga > Dreams
I am living proof that your yoga practice can be the catalyst to fulfilling ALL of your dreams!
One of by biggest dreams came true as I just drove into NYC to move into my new home! My amazing 34th floor apartment looks out over south Manhattan with views of the east river and I can see Central Park from the rooftop deck.
As a little girl growing up in Minnesota, I dreamt of living in a high rise and walking to work, living the city life. Little did I know that I would be doing so in NYC vs. Minneapolis and I would be walking to a yoga studio vs. a Fortune 500 company.
But then, this is yoga and this is dreaming. Yoga has taught me that not only are all of my dreams possible, but that I need to dream bigger! The universe WANTS you to have it all, you just have to get quiet enough to hear what it is saying.
Creating a calm mind and space in my soul through my practice, I was able to recognize the signs that it was now time to fulfill this city living dream and make my way to the Big Apple.
And now I am here and it is BETTER and BIGGER than anything I could have ever dreamt myself as that little girl in Minnesota.
May your practice today be the guiding force to manifesting your dreams.
Namaste,
Jeni
Share the love!
Travel Articles
Studio Reviews
Yoga Journal
FREE Newsletter
FREE Subscription
Monthly yoga pose with alignment points
Song to add to your yogi playlist
Discounts and Retreat Pre-Registration