What I've learned about yoga...and finding a studio home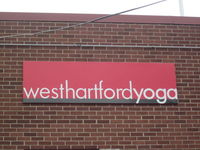 August 16, 2012
Dear Barb, Teachers, and the Staff at West Hartford Yoga,
I wanted to thank you for providing such a wonderful place to practice yoga while living in Connecticut.
In June of 2010, while attending a training session in Rocky Hill, I did a drop in class at WHY. I was living in Scottsdale, AZ at the time and I distinctly remember the class. I had gotten lost and was running late. As I checked in, a friendly, smiling face, Jane greeted me and said not to rush, class hadn't started yet and she would wait for me.
I remember feeling relieved and grateful for Jane, not only for her kindness, but for her gentle attitude. And she taught an amazing class! She talked about how coming onto our mats was like resetting again and again, no matter where we were, where we had been, or what was to come.
I had NO idea that 2 months later I would be signing relocation papers, moving me permanently to the east coast and 10 months later, I would be signing up for a monthly membership at WHY. I remember telling the real estate agent as we looked for apartments, "My proximity is 15 minutes from West Hartford Yoga studio."
Thank you Barb for creating a wonderful studio to place my mat. In a time of huge transition, my mat becomes home, and it was easy to feel at home at WHY. And thank you for introducing me to my core...in each and every class.
Thank you Corrina for redesigning my back bends to be strain free and a restorative practice to go again within. And your amazing gift of sequencing. I always found myself in savasana when it felt like we had just started class.
Thank you Linda for reminding me that the universe only provides that which we are ready to receive. I remind myself of this daily to live from the heart, not the head.
Thank you Marcia for always saying exactly what I needed to hear, each and every time and for giving us access to the Kundalini practice. Sat Nam!
Thank you Jane for your kindness two years ago and for always kicking my butt and getting me to like it.
Thank you Shankara for Chandra Namaskar, blindfolded sun saluations, and energized feet.
Thank you Carissa for the phrase "Where are you putting your effort and is it supporting you?" I use this often both on and off my mat.
Thank you Kristi for a gentle practice where subtle strength always showed up in surprising ways.
Thank you Nykki for the Mandala, and for consistently bringing grace, honestly, and wit onto the mat.
Thank you Kristin and Barb for allowing me to finish my training at WHY and become even a little more of the community.
Because of you all at
West Hartford Yoga
, I arrived as a student, I leave as a teacher. And a perpetual student to the practice of yoga; grateful, blessed, stronger, and better prepared for the journey ahead.
Thank you for all you bring to the yoga community and to the students who practice,
Namaste,
Jeni
Share the love!
Travel Articles
Studio Reviews
Yoga Journal
FREE Newsletter
FREE Subscription
Monthly yoga pose with alignment points
Song to add to your yogi playlist
Discounts and Retreat Pre-Registration