What I've learned about yoga... and grieving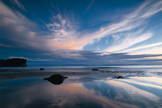 April 8, 2010
One of my first yoga instructors always says, "See you on the mat." I always liked this because our practice isn't about the studio or the music or what we were wearing, but the work that we were doing on the mat.
This rang true on a recent trip to Denver to attend my aunt Susie's funeral where family honored her life. She had passed away a week earlier after a two and half year battle with cancer. I came upon her yoga mat as we sorted through her things. I was going to attend a drop in class while visiting and I had unconsciously forgotten my own mat. How perfect to have found the mat she used.
As I went to class the morning of the funeral service, rolled out her mat in the studio, and set my intention for the day, I dedicated my practice to her and I started to wonder. What work had she done on this mat? Had she challenged herself? Had she discovered new things about herself? Had she pushed herself to her edge from time to time and unexpectedly found a new space in which to dwell? Had she used her practice for detoxifying, reconciliation, or healing? Had she meditated on this mat, found peace, or discovered new amazing things about herself that brought her joy?
She was a loving, genuine person, who didn't understand why simple souls made the world so complex and I can't help but think that yoga questions the same thing. A simple practice and the mat. That's it. It's a place to eliminate noise, connect with our authentic selves, and remember how amazing we truly are, just what Aunt Susie wanted for us all. A place to ask questions and not care if we get an answer because just the act of questioning keeps us on the journey, keeps us coming back to the mat.
This is what I resolved to do that day and the days to come for her. Continue to practice, continue to question, but in a simple, gentle, yoga way. Continue on the journey and continue to go back to the mat.
See you on the mat, Aunt Susie, see you on the mat.
Share the love!
Travel Articles
Studio Reviews
Yoga Journal
FREE Newsletter
FREE Subscription
Monthly yoga pose with alignment points
Song to add to your yogi playlist
Discounts and Retreat Pre-Registration