What I've learned about Finding POWER in your Yoga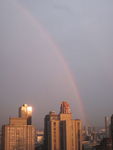 November 7, 2012
The city of New York and surrounding areas have had a couple of weeks of challenging times. We prepare again today for another storm. Fortunately, not another Hurricane, but rain, wind, maybe snow at a time when many are just getting settled back into their homes, many are still without power, and many without their homes that were destroyed by Hurricane Sandy.
Last year, while living in Hartford, CT, I experienced my own version of this when an early season snowstorm hit the area and we were without power. It was nine days for me and even more for some to have the electricity back on and with nights being very cold, I packed up my kitty and we headed to a hotel and then a friend's not knowing when our "normal" would be restored.
I remember feeling very displaced, stranded...powerless! My apartment was not the only thing that was without power, I myself had to completely let go. Which is why my yoga practice became more important at this time. Whether at my local studio, my hotel room, or a drop in class near the hotel, that mat was my lifeline for the day. It felt like the only place I had where I got to call the shots, make choices for my body and breath and movement. That hour and a half on my mat, back to a place of comfort and familiarity allowed me to get through the day, knowing that what ever happened, I could always go back to my mat.
I was reminded of this last week when the class was full, overflowing with students that had come up from the downtown areas, powerless, themselves just wanting to feel a little normal. To the instructor that rearranged the students making room for each and every may, I say, "Namaste".
This is what I love about the practice of yoga. It bonds the community, it humbles us in ways we didn't understand, and it gives us a place to be comforted. That paired with the synergy of powerful loving intention can truly make a difference when it feels like so much chaos is around us.
Natural disaster or average everyday, find room for neighboring students, trust you always have a place to be safe, and dedicate your practice to something outside of what is sitting on your mat.
Namaste,
Jeni
Share the love!
Travel Articles
Studio Reviews
Yoga Journal
FREE Newsletter
FREE Subscription
Monthly yoga pose with alignment points
Song to add to your yogi playlist
Discounts and Retreat Pre-Registration