West Hartford Yoga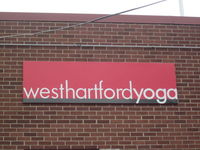 November 5, 2011
Drop in $17
In a great new location, West Hartford Yoga offers up the perfect place for my post travel Zen when visiting the Connecticut for work. (www.westhartfordyoga.com/). Instructor Jane was kind enough to wait for me to set up my mat as I hurried in to the studio. Her gentle nature was instantly calming and the one-hour class was the perfect amount of time for practice in between my training classes and dinner. There are two studios, plenty of classes, and affordable rates. Whether on the road or a local wanting to find a special place for practice, WHY has it all. Boutique, coffee bar, and showers included.
"Love it"
That Jane waited for me to settle onto my mat before starting
Jane's message that yoga is a great way to reset whether just back from a vacation or overwhelmed any time for whatever reason, it's a place to find your breath and connect with your body
The open door in the studio letting in the fresh East coast breeze
It is only 10 minutes from a huge, wonderfully stocked Whole Foods
"Didn't Love it"
That I was late…and then had to be in the front, I prefer the back, nothing has changed since college.
Share the love!
Travel Articles
Studio Reviews
Yoga Journal
FREE Newsletter
FREE Subscription
Monthly yoga pose with alignment points
Song to add to your yogi playlist
Discounts and Retreat Pre-Registration