Urban Yoga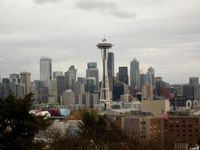 December 18, 2011
Drop in class with free mat and towel rental for $18 when staying at the Hotel Andra.
To avoid being Zenless in Seattle, head to Urban Yoga and Spa (www.urbanyogaspa.com/). The large studio can accommodate plenty of students and the warm temperature was a welcome from the chill of the outside in November.
"Love it"
The view of downtown and architecture through the high windows
The plain room with candle lighting to create a gentle and focused mood
Cute cubbies for jackets and boots
"Didn't Love it"
Get there early for a spot, it fills up fast
Share the love!
Travel Articles
Studio Reviews
Yoga Journal
FREE Newsletter
FREE Subscription
Monthly yoga pose with alignment points
Song to add to your yogi playlist
Discounts and Retreat Pre-Registration