Travel Review: Siesta Key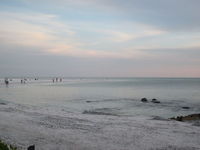 November 20, 2012
Lodging: Located on the island of Siesta Key, the Tropical Breeze Resort has a couple of really great things going for it. One is the proximity to and the quality of the beach. Just a 2 block walk and you are right on the beautiful blue water and soft sand. Whether you want to search for shells or just sit and get lost in the waves, this beach is perfect.
The staff is wonderful, fully accomodating our early check in and large group event needs. And it was the perfect set up for a group that wanted to hang out together but still have separate rooms. The patio in the middle of our rooms was the perfect place to meet or relax in the sun. The rooms themselves could use a little upgrade, but the price is right, the showers have good water pressure, and the rooms all have a kitchen and living space if you want to make meals at home.
Yoga: With the beach only two blocks away, the best place for asana is Sietsa Key Beach. Pack down the sand, lay out your mat, and the enjoy the view. You may even see a swimming stingray or playing dolphins as we did. There is no better place to practice yoga than in nature.
Sun Garden Cafe: This place not only has great service and a lovely patio, but the food is yum, yum, yummy! Within walking distance from the resort, our group had three meals here over the long wedding weekend. My favorites…the Feelin Good Omelet and the Mahi Tacos with homemade guacamole!
Broken Egg Cafe: The service here is small town wonderful. We stopped in late in the day when they were about to close and they quickly pulled out a couple sandwiches, meeting our time crunch and satisfying our tastebuds.
Overall: the weather was a bit chilly in November, pack a jacket for night, but this is a great spot for a destination wedding group. Lodging, food, bars, and beach are all within walking distance. This was a wonderful place to gather and celebrate the love of wonderful, lifetime friends.
Share the love!
Travel Articles
Studio Reviews
Yoga Journal
FREE Newsletter
FREE Subscription
Monthly yoga pose with alignment points
Song to add to your yogi playlist
Discounts and Retreat Pre-Registration