Stowe Mountain Ranch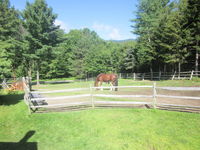 August 23, 2013
Ranch:
Stowe Mountain Ranch
, charming on the inside with magnificent 360 degrees of nature on the outside, the perfect place to create an intimate setting for relaxation and to strengthen yogi relationships, whether existing or new.
Lodging: The rooms are cozy and comfortable with high quality beds and pillows. Like being at yoga ranch camp, only much nicer. The kitchen and dining is open so yogi's can easily mingle and get what they need. The yoga floor, with large sliding doors, looks outside to the beautiful surroundings. One of my favorite moments was catching a glimpse of the tranquil horses outside as I moved through my practice. What a majestic drishti!
Food: For only $40/day per person you have the luxury of having a local chef on-site for three meals. Whether you are vegetarian, vegan, or have other dietary needs, Eric caters to the tastes of the group, providing delicious, healthy meals with ingredients from the local area. Love the Cabot's cheese!
Hiking: As part of your retreat, you can include one or many options for hiking. Whether you are on a journey with the horses, at the waterfall, or Smuggler's Notch, Vermont is BEAUTIFUL! Mountains, water, trees, it is so peaceful and yet grand at the same time.
Yoga with Horses: What can say about this? AMAZING! These horses are gentle, caring, and supportive. It was truly inspirational to watch courageous yogi's move in asana on the back of Cherie. When you stay at
Stowe Mountain Ranch
Yoga Retreat, you HAVE to include this as part of your program. Validating that yoga is more than just asana, through connecting and communicating with horses through touch and energy, you create a life experience like no other.
Stowe: The town of Stowe is as charming and cute as Vermont itself. Restaurants and shopping give a nice break to all the yoga work. If you are looking for a deeper dive, you can tour the Van Trapp Family Lodge, Cabot Cheese, or others. Local businesses strive and succeed in good business practices, supporting locally, and being environmentally clean. As the owner of
Stowe Mountain Ranch
, Gerry Scott, explained, people like Vermont because it reminds them of the town they grew up in…and it does.
For a lovely evening under the Vermont sky, have site owner, Gerry Scott, schedule a bonfire with local Bluegrass musician, Leslie Grant. Star gazing with wine and s'mores to the soft tunes of guitar and song is the perfect ending to this amazing experience.
To the view the full Gallery, click
HERE
.
To start planning your Yoga with Horses Retreat, contact jj@tadasanatravel.com.
Namaste,
Jeni
Share the love!
Travel Articles
Studio Reviews
Yoga Journal
FREE Newsletter
FREE Subscription
Monthly yoga pose with alignment points
Song to add to your yogi playlist
Discounts and Retreat Pre-Registration