Sankalpah Yoga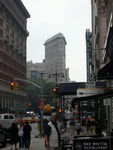 December 17, 2011
2 class drop in with 2-day mat rental $27
For Zen in the city try Sankalpah (http://www.sankalpah.com/). Challenging, but gentle classes, this is why I love to practice on the road, it's always rewarding to push yourself in a new place, humble to check your experience or lack there of at the door. Francesca focused on putting away all the noise (cell phones) for a moment and taking a look at your surroundings. You may see something new, experience new joy, and grow your heart. This was a perfect message as I walked the city for the next two days.
"Love it" The studio – one brick wall, one Sanskrit wall, chandelier and palm leaf ceiling fans = COOL city vibe
Great music
Great adjustments
Great rate for 2 classes and mat rental
"Didn't Love it"
First class didn't have the fans moving, so was a little stuffy
Share the love!
Travel Articles
Studio Reviews
Yoga Journal
FREE Newsletter
FREE Subscription
Monthly yoga pose with alignment points
Song to add to your yogi playlist
Discounts and Retreat Pre-Registration