San Juan del Sur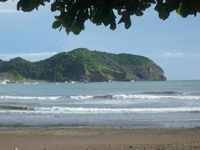 December 17, 2011
$40 for a private session with 3 people
Find your Nica Zen at Pelican Eyes for a session with Katyrynna. Her gentle mix of vinyasa and ashtanga proved the perfect practice before our spa treatments. Located on the porch of the spa entrance under the jungle canopy with the sounds of nature and Katyrynna's amazing singing voice, we felt very blessed to have found this slice of paradise.
"Love it":
Katyrynna's chanting sounded like a CD in the background
Can't beat that price for a private session
Very convenient to practice, then head into the spa
"Didn't love it":
Wished I would have had an extra mat, the tile was a little hard on the knees
Bug spray preferable for outdoor practice
Share the love!
Travel Articles
Studio Reviews
Yoga Journal
FREE Newsletter
FREE Subscription
Monthly yoga pose with alignment points
Song to add to your yogi playlist
Discounts and Retreat Pre-Registration