Omega Institute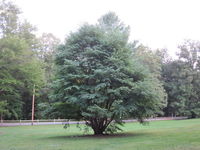 September 1, 2011
For an ultimate yoga workshop and Omega Zen experience, book a weekend at Omega Institute in Rhinebeck, NY (http://eomega.org/). The setting is pristine among the Hudson Valley. Enjoy the Lake, the trees, and the amazing meditation sanctuary. The meals are delicious and locally sourced, organic, and seasonal. The instruction is the best there is to offer; Rodney and Colleen Yee, Seane Corne, Peter Sterios, Rod Stryker, and more. From the book store to the café to the classes and cabins, everything is deeply connected to the spirit and the earth.
"Love it"
Food, food, food
Lush, green, grounds
The store had so many fun things, I got some of my Christmas shopping done
"Didn't love it"
Hurricane Irene delayed our departure a bit, but gave us an excuse to go wading barefoot!
Share the love!
Travel Articles
Studio Reviews
Yoga Journal
FREE Newsletter
FREE Subscription
Monthly yoga pose with alignment points
Song to add to your yogi playlist
Discounts and Retreat Pre-Registration