Om Time Yoga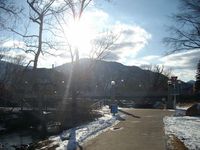 February 14, 2009
Drop-in $16
Zen in the flatirons can be found at Om Time yoga, (www.omtime.com). They have a lovely studio and being that is was Valentine's Day, the instructor tailored class with a lot of heart opening poses. They also have a fun shop attached to browse after class. If you attend the 'Teacher of the month' class, the drop in fee is only $10.
"Love it"
Chanting for heart chakra
Lavender fennel eye pillow I bought from the shop
"Didn't Love it"
Having to head out into the cold afterwards
Share the love!
Travel Articles
Studio Reviews
Yoga Journal
FREE Newsletter
FREE Subscription
Monthly yoga pose with alignment points
Song to add to your yogi playlist
Discounts and Retreat Pre-Registration