Newington Yoga Center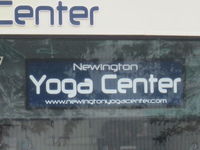 October 29, 2011
Drop in $18
Now that I was more familiar with the area, the drive was much easier and I breezed right in with no issues to continue my East coast Zen at Newington Yoga Center (www.newingtonyogacenter.com). This is a beautiful open studio with French doors and plenty of props. The class was Ashtanga and although not my favorite, as I am more of a Vinyasa girl, instructor Suzanne had great ability and sense of humor as we moved through the class. I probably wouldn't go back to Ashtanga due to personal preferences, but would definitely try the studio and instructor again when in the area.
Love It
The sound of rain outside during Savasana
Extra mat to pad my slim travel mat
Chanting in between the warm-up and sun salutations
Didn't Love It
No music during this Ashtanga
Prefer a Vinyasa flow vs. Ashtanga
Share the love!
Travel Articles
Studio Reviews
Yoga Journal
FREE Newsletter
FREE Subscription
Monthly yoga pose with alignment points
Song to add to your yogi playlist
Discounts and Retreat Pre-Registration