Kama Deva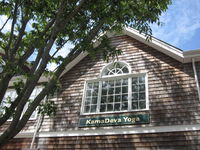 September 1, 2011
Right downtown main street East Hampton, Kama Deva (http://kamadevayoga.com/) offers a great practice to get you into enough Zen to rock that fedora. $25 for a drop in or 5 class card $100 if you are planning to be in the area for a while. Jenna's class was strong and challenging, perfect for toning beach combing bodies. The studio is bright with natural light and we had the privilege of live music during savasana.
"Love it"
Perfect location for browsing the shops or grabbing a bite to eat after class
Wall of windows letting in the summer light
"Didn't love it"
Parking can be a little tricky if the lot is full
Classes can be more full in the summer, so get there early
Share the love!
Travel Articles
Studio Reviews
Yoga Journal
FREE Newsletter
FREE Subscription
Monthly yoga pose with alignment points
Song to add to your yogi playlist
Discounts and Retreat Pre-Registration