Exhale Center Park South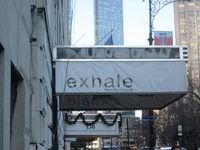 December 24, 2011
Find your Central Park Zen at Exhale Center Park South (http://www.exhalespa.com/Locations/NYCentralParkSouth). Literally across from the park, just down from the horse carriages, this studio and spa have everything you need to prepare for a day in the city. A great vinyasa style flow class, spa treatments, and a large locker room to clean up afterwards. $25 to drop in for a class, amenities included.
"Love it"
Walking and being right by the park
Yoga/spa combination access
"Didn't love it"
Drop-in classes are a little expensive, so if you are planning on regular trips, buy a package
Share the love!
Travel Articles
Studio Reviews
Yoga Journal
FREE Newsletter
FREE Subscription
Monthly yoga pose with alignment points
Song to add to your yogi playlist
Discounts and Retreat Pre-Registration