Exhale Center for Sacred Movement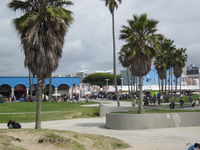 September 1, 2011
For funky beach Zen, visit Exhale Center for Sacred Movement in Venice (http://www.exhalespa.com/Locations/CASantaMonica). Right off the beach, drop in for $22 to experience a lovely vinyasa flow with traditional music and chanting. Perfect to get you warmed up for strolling the beach, shopping for sassy sunglasses, and watching the skaters at the park.
"Love it"
Fun music
Cool alter
Amazing shop full of fun yoga things
"Didn't love it"
Huge class, so didn't get any adjustments
Share the love!
Travel Articles
Studio Reviews
Yoga Journal
FREE Newsletter
FREE Subscription
Monthly yoga pose with alignment points
Song to add to your yogi playlist
Discounts and Retreat Pre-Registration