Broken or just a little bent?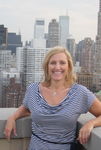 April 30, 2013
I recently heard P!nk's lyrics to a song on her new album, "we're not broken, just bent, we can learn to love again." She may be referring to a romantic relationship; however, the concept can be translated across the board to the way we feel about every facet of our lives. Love for our work, our tribe, our family and community, our physical bodies, our experiences and more.
The fact is, none of us are a lost cause and it is never too late to transform our lives into exactly what is desired. Yes, it will take effort and awareness to heal old wounds if they should arise. However, if merely a new alignment needs to be shaped from something already strong, there is a foundation for transformation. The journey will require courage and determination and will become a place where reshaping what's bent is simply the catalyst for what we desire.
The last nine months has been a massive transformation for myself. The most significant life transition I have ever experienced. There were many days over this time when I felt broken. There was fear, a feeling of being lost and alone, times of great confusion. And then something cleared and a new day came again and as I looked back, I didn't see someone that was broken. I saw something requiring new alignment in order to move forward. I saw these moments in time as opportunities to get closer to the life I desired, to get closer to my authentic self, to peace and to freedom.
Are you ready to reshape your life? I am partnering with an amazing Theta Reiki Therapist, John Odlum and his Tru Belief program. We are joining forces to provide support in realigning the kinks.
The offer includes a personalized guidance session with myself to reconnect you to the things you love to do, providing focus and next steps to get you onto the path. Then, a session with John to support in clearing old beliefs and thought patterns that are currently blocking the path.
Contact me at jj@tadasanatravel.com to schedule your package to transforming your life into the state you fully desire.
Share the love!
Travel Articles
Studio Reviews
Yoga Journal
FREE Newsletter
FREE Subscription
Monthly yoga pose with alignment points
Song to add to your yogi playlist
Discounts and Retreat Pre-Registration