Ecuador Rejuvenation Retreat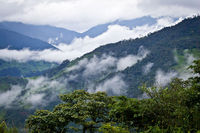 Ecuador
February 2014
Cost: $2199.00
Join New York City's Certified Hatha, Vinyasa, and Kundalini teacher, Laleh Nader for a yoga adventure of a lifetime! Located at the beautiful
Yoga Retreat at Mountain View Inn
, this program is designed to harmonize mind, body, and spirit at the center of the earth cultivating inner peace through the practice of yoga atop a mountain and aside a volcano.
Cost - $2,399 ---> DISCOUNTED TO $2,199
About Laleh:
Laleh Nader has been motivating students through leading classes and workshops in the Wellness and Fitness Industry for over 20 years. She has a comprehensive background in the techniques of yoga, meditation, stretching, relaxation, and movement.
Laleh is a Certified KRI-2 level Kundalini Instructor as taught by Yogi Bhajan, as well as a Certified Yoga Instructor of the Yoga Works Method. She teaches Yoga classes and workshops at prestigious New York City health clubs and yoga studios such as Reebok, Sports Club/LA, New York Yoga, Equinox, and Golden Bridge Yoga. She is also a Certified Pilates Mat Instructor.
As Laleh's enthusiasm for a healthy body and mind expanded, she became a Certified Reiki Master and studied Meditation. This natural progression of being a teacher of Physical Arts and Self Care lead her to study and practice Yoga for many years at various ashrams with Yoga Masters, and then share her deep passion of Yoga and the Yoga lifestyle with her students.
By converging the core principles of Kundalini, Vinyasa, and Hatha Yoga, combined with her 20 plus years of experience in the health and wellness industry, Laleh designed her signature yoga technique, Laleh's Functional Yoga.
To learn more about Laleh, click
HERE
.
About Mountain View Inn:
Bed and Breakfast style located in Tumbaco, only 30 minutes away from the Ecuadorian capital city of Quito and only 15 minutes from the airport. It is strategically located so that you can sleep in the serenity and beauty of the Andes while being within minutes of majestic cathedrals, art museums, and other historic sites of Quito. This is a great bonding experience for your family and friends. It allows everyone to enjoy this adventurous travel together and have events to talk about for the rest of their lives.
Price includes:
7 nights Accomodation
Meals
Airport Transportation
Daily Yoga
Excursions - including transportation
Current Promotion:
No purchase necessary - simply complete three easy steps below.
1. 'Like' us on Facebook
2. Share one of our Facebook pictures on your Facebook wall
3. Join the Ecuador Vacations mailing list for future offers and discounts by sending name and e-mail to: Robertbucheli@gmail.com.
Winner will be selected on February 1st and announced on Facebook, Gook luck!
Click
HERE
for a more detailed agenda and information on accomodations.
Click
HERE
to view the Gallery.
For more reteat details and regiatration contact Jeni James at jj@tadasanatravel.com.
Share the love!
Retreat Locations
FREE Newsletter
FREE Subscription
Monthly yoga pose with alignment points
Song to add to your yogi playlist
Discounts and Retreat Pre-Registration